Wi-Fi 6: Giving AC the AX e
By Brandon Webb / Sep 08,2020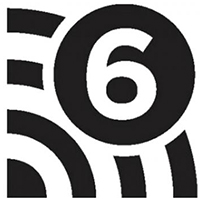 Wi-Fi 6, also known as 802.11ax, is the newest Wi-Fi standard developed by the IEEE. AX was developed with high density deployments in mind, such as:

This next generation of wireless doesn't just address pain points associated with very high-density (VHD) environments. Improvement in throughput and reliability means that every use case and application can see added benefits by making the switch: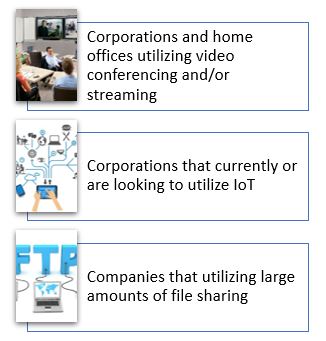 802.11ax does more than simply build upon the technologies and standards of its predecessors. Instead, AX represents a paradigm shift and rethinks how WLAN's should behave and what features need to be prioritized. Previous networks were built on increased theoretical peak speed. WLAN's of the future need to be built for capacity and efficiency.
Wi-Fi 6 accomplishes these enhancements by combining multiple technologies to achieve better results:

It combines 5ghz and 2.4ghz technologies. This allows backward compatibility with both 802.11ac and 802.11n. In addition, AX brings the improvements to the 2.4 Ghz space for the first time in years (maybe the 2.4 band isn't dead). Not only will the current spectrums benefit, but future iterations will support 6 Ghz as well.

The industry has recognized that while increased throughput may create buzz it's high efficiency that will rule the day. AX makes use of a new technology called Orthogonal Frequency Division Multiple Access, which allows for subchannel utilization, and solves a problem that plagued 802.11ac's use of MU-MIMO. This allows multiple clients, up to 74 per access point, to connect at the same time. This is accomplished by breaking down the Wi-Fi channel into individual units cutting down on congestion and improving channel performance. Not only that, but clients will now be able to transmit on a more deterministic basis rather than constantly competing for precious air-time. All devices will play nice and data will flow with fewer retransmissions and less costly control and management overhead. It will just work.

While efficiency was the primary motivation behind the new standard, those looking for increased speed will not be disappointed. The use of 1024 QAM modulation alone can increase the throughput up to 40% using a single stream. Combine that with other improvements and up to 8 spatial streams in high end access points, it's no surprise that AX can support a total capacity of 14 Gbps (under the right conditions and end clients of course).

Even your devices battery life will see improvements with the new standard, as Target Wait Time (TWT) will allow clients to "sleep" and conserve energy for much longer periods of time (up to several hours). This is especially valuable to IoT devices that only need to send data at set intervals. Plus, the AX standard introduces a 20MHz-only client option, which will allow chipmakers to produce more cost effective IoT units.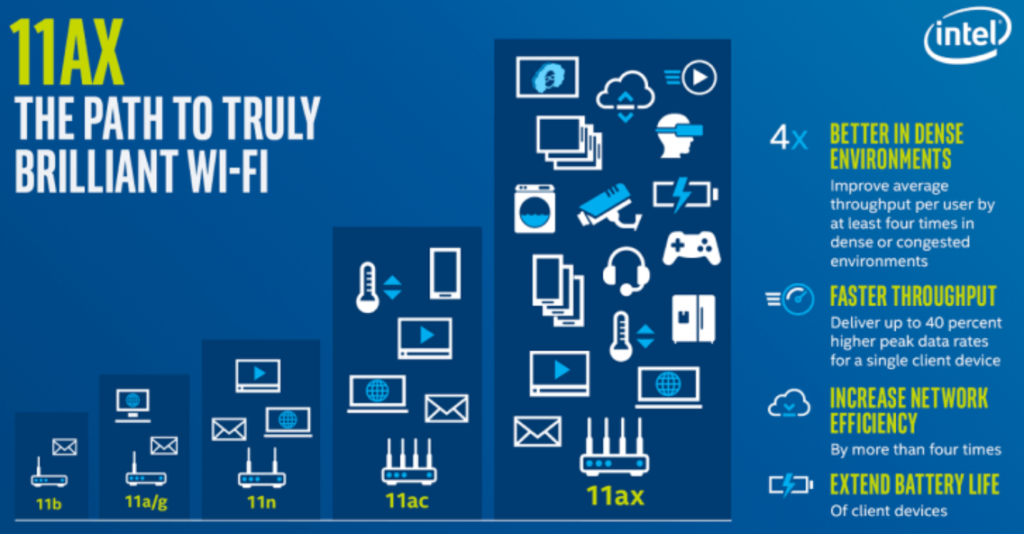 This is not an exhaustive list by any means and keep in mind that in order to achieve all the benefits, it's necessary to upgrade to client devices that support the new standard. Currently major chipset and device manufacturers have already released AX radios that are working their way into smartphones, tablets, and laptops. Both Samsung and Apple released products in 2019 that meet the new standard, while industry analysts are predicting over a billion new chipsets will be shipped annually by 2022. But as these new devices quickly make their way into the market, it is important that networks are equipped to support this new wave. If you're interested in providing your business with the resiliency and performance your network needs, then we at Intuitive would love to speak with you about how we can give your old WLAN the "AX(e)"