Applying Agile to HR
By Divya Krishna / Jun 05, 2023
In today's fast-paced and ever-changing business environment, Global HR Leaders are considering agile, a project management methodology from the world of IT, to enable HR to consistently deliver relevant and useful products to its customers — employees, managers, and leaders. It enables them to keep pace with rapidly evolving employee needs.
To successfully adopt an agile approach, it's essential for HR leaders to clearly understand:
What is the agile mindset?

What are the four core values to applying agile HR and driving agile HR transformation?

How can agile values be applied to HR processes?

How can the agile method be applied across functions to foster a more agile organization?
What is Agile?
As many of us know, Agile came about as a "solution" to the disadvantages of the waterfall methodology. Instead of a sequential design process, the Agile methodology follows an incremental approach. At Intuitive we follow this methodology in every aspect of our operation. We work, take feedback, learn/adapt and deliver.
Agile project management also emphasizes collaboration and communication among all the stakeholders.
Agile methodology aims to deliver customer value as quickly as possible while being flexible and adaptable to change. It is a different approach to traditional project management, which tends to be more structured and rigid.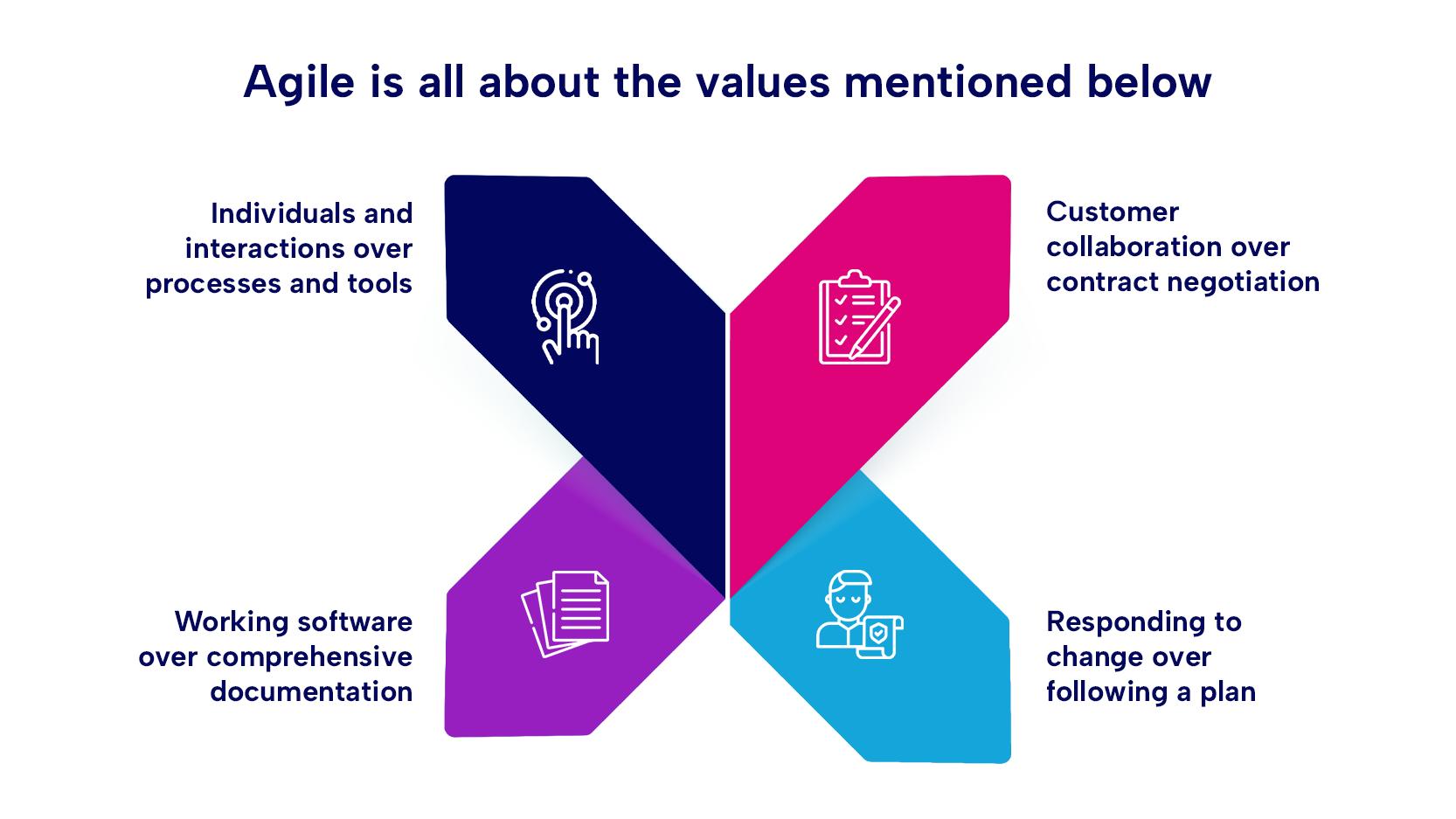 How can Agile values be applied to HR?
Today, HR is charged with redefining the workplace experience and engaging employees like never before while grappling with the many rapidly escalating people challenges — acquiring and retaining talent, complying with labor laws, developing employee learning and development programs, capturing and reporting accurate data — all while helping the business manage and predict people strategies that align with strategic business objectives. In the current scenario, agile HR has emerged as a popular tool that can empower HR professionals to better manage volatility, enhance adaptability and strengthen the organization by applying Agile methodologies to their talent management processes.
Individuals and interactions over processes and tools
HR should facilitate and make it easier for people to collaborate within the organization. That means not only fostering a culture that allows collaboration to emerge and flourish, but also rewarding it. In addition, HR must radically shift its focus from enforcing rules, policies, processes and systems, to ensuring that employees have the best experience at work. For this to happen, HR needs to move from a compliance-oriented function to a more strategic, developmental one. The employees are our customers. Like any business, HR must strive to achieve >95% CSAT across the organization without compromising the core values and principles of the company.
Working software over comprehensive documentation
HR should test and deliver the new process in iterative steps rather than driving to deliver them as fully designed products through rigid rollout procedures. HR's desire to design and implement "perfect" processes end-to-end without testing any of the assumptions of those processes along the way results in most solutions becoming obsolete or overly generic by the time of completion or rollout.
Customer collaboration over contract negotiation
Customer collaboration can be easily translated into HR collaborating with employees and business leaders on a continual basis. HR needs to co-create with their customers — employees, managers and leaders —continuously during the design of a product or solution and release a working prototype at set intervals. These releases enable customers to give regular feedback, increasing the likelihood of meeting customer needs. We must create a new customer sensing model instead of following the existing service-based model to understand the needs of our customers(employees)
Responding to change over following a plan
HR is not only slow to change, but it seems to be stubbornly focused on creating long-term strategic plans that make people processes difficult to adapt and change. People change their priorities for a variety of reasons. Change is a reality of product and solution creation, a reality that HR processes and structures must reflect. HR needs to quickly and easily respond to change.
We at Intuitive are in the process of building an employee centric Agile HR model where we adapt ourselves according to our changing employee needs and requirements.
Every employee wants to be part of an organization where they have a sense of belongingness. Intuitive strives to provide a healthy, diverse and humane work environment where our employees can thrive, personally and professionally.